While Brisbane and the Gold Coast are often the go-to getaways for a cheeky weekend, the Sunshine Coast should be next on your must-visit list. World-famous beaches, premier restaurants and incredible cultural experiences are at your fingertips. The Sunshine Coast punches above its weight when it comes to serving up the best, but don't just take our word for it, it's time you paid a visit to this coastal gem.
Of course, whether you are here for a vacation or just for a relaxing stay, you will need a place to rest. From chic coastal hotels to luxury rainforest escapes, we've worked hard and slept for you to bring you this ultimate list of the Sunshine Coast's best hotels.
Noosa peppers
Noosa Heads
If you are looking for a prime location, nothing touches Peppers Noosa Resort & Villas. Just a stone's throw (500 yards) from the bustling center of Hastings Street, this upscale hotel gives you the choice of a resort room, where you're right in the heart of it all, or a villa stay, where you'll be tucked away in the lush serenity of Noosa National Park. Spend your days lazily floating in the free-form pool, pamper yourself at the on-site Stephanie's Ocean Spa, or indulge in a little shopping spree at the nearby boutiques. Peppers Noosa is one of the best hotels on the Sunshine Coast that certainly won't break the bank.
Mooloolaba Oceans
Mooloolaba
Setting a new standard for luxury accommodation on the Sunshine Coast, Oceans Mooloolaba offers a five star experience like no other. Picture this: stunning ocean views, salty ocean breezes, crashing waves just yards away, and everything within walking distance. Yes, that is what awaits you at Oceans Mooloolaba. This beachfront boutique hotel emulates coastal-chic luxury in every aspect of the building, from the neutral palette to the stone and marble finishes to the cutting-edge technology. It's definitely the one you'll want to save up for, but we promise it's worth it.
Sofitel Noosa
Noosa Heads
Would you really expect a roundup of the best hotels on the Sunshine Coast to not include the Sofitel? In classic Sofitel style, Sofitel Noosa draws inspiration from local culture and tradition while celebrating innovation and the French way of life to deliver a luxurious, one-of-a-kind coastal hotel experience. Located on Hastings Street, there are a variety of room offerings and the hardest choice you will have to make is between a river view or an ocean view. It's hard, we know that. In each room, natural textures and a soothing color palette are inspired by the rich cultural heritage of Noosa and its beach. You'll also be spoiled for choice with five food and drink offerings, from modern European flavors at Noosa Beach House Restaurant, to drinks at the Water's Edge Pool Bar.
Element on Coolum Beach
Coolum Beach
Location, location, location. An imposing presence a few meters from Coolum Beach, Element on Coolum Beach is the best of the best when it comes to stylish accommodation. The newly refurbished hotel offers 49 self-contained one, two and three bedroom apartments and sub-penthouses. Voted Australia's Best Hotel by Tripadvisor in 2021, Element on Coolum Beach features an on-site day spa, heated swimming pool, sunbathing area, barbecue area and nine specialty shops and restaurants . There is no doubt that this is one of the best hotels on the Sunshine Coast.
Ocean View Resort
Caloundra
We'll just come out and say it. There is more to the Sunshine Coast than Noosa and if you don't visit Caloundra you are missing out. Ocean Views Resort is one of the most popular hotels in Caloundra and we love that everything is within walking distance. All 47 vacation rental units have balconies, and you'll have access to the resort's heated pool, spa, sauna, gym, rooftop terrace, and BBQ area. Ocean Views Resort may not boast the luxury AF finishes of some of the Sunshine Coast's most boutique stays, but for affordability and convenience, you can't beat it.
Tingirana
Noosa Heads
When you want to walk out your door and land immediately on bustling Hastings Street or peek out the back window at Noosa's main beach, Tingirana is your first choice of accommodation in Noosa. While location is a huge plus for Tingirana, the Hamptons-style suites offer maximum indulgence with their coastal furnishings and large beachfront balconies. And, for those times when you don't feel like having sand between your toes on Noosa's main beach, the 20 meter swimming pool will welcome you.
Spicers Clovelly Estate
Montville
If you're enchanted by the quaint European chic of Provence but only have a weekend ahead of you (and frankly, you can't afford the international flight), luxury property Spicers Clovelly Estate has all the charm of an escape to the South of France. Nestled in Montville you will find this elegant and beautiful retreat flanked by an award winning restaurant. Ancient fig trees, jacarandas, magnolias and gardenias surround the French provincial-inspired main house, while the French cottage, spa suites and estate suites highlight different property features: spectacular views of the Hinterland with private terraces and picture-perfect gardens, every part of the property is truly something special. Plush but never ostentatious, Spicers' sleek yet contemporary furnishings and fixtures are ultra-luxe, with plush linens, marble bathrooms, and even the option of an evening bath butler on hand.
RACV Noosa Resort
Noosa Heads
Voted 'People's Choice Award' for Best Accommodation in Queensland for three years, and ranked as one of Tripadvisor's 'Top 25 Hotels in Australia', The RACV Noosa Resort is one of the best hotels on the Sunshine Coast. This premier hotel offers a variety of spacious and elegant accommodation options, with 52 one-room suites, 78 two- and three-room apartments, and 26 three-bedroom multi-story villas. Whether you're heading to Noosa for a romantic couple's getaway, a girls' getaway or a family vacation, RACV Noosa Resort has you covered. There's also a soothing spa retreat on-site, a buffet terrace, and a casual restaurant, perfect for post-beach dining. We dig it.
Narrows Escape
Montville
This cozy, hidden rainforest retreat nestled in the Sunshine Coast outback has been officially named Tripadvisor's World's Most Romantic Hotel in 2021, so obviously we had to let you know. Nestled in the lush outback surroundings of the Sunshine Coast, Narrows Escape has long been one of our favorite places for a weekend getaway, so we can see why it took the top spot in as the most romantic hotel in the world. With just eight cabins hidden among the trees, here it's all about getting back to nature and spending time alone with your plus one. Each of the six original villas comes equipped with all the essentials, including a fireplace, double spa tub, kitchenette, and hammock on the balcony overlooking the rainforest, so keep your eyes peeled for wildlife.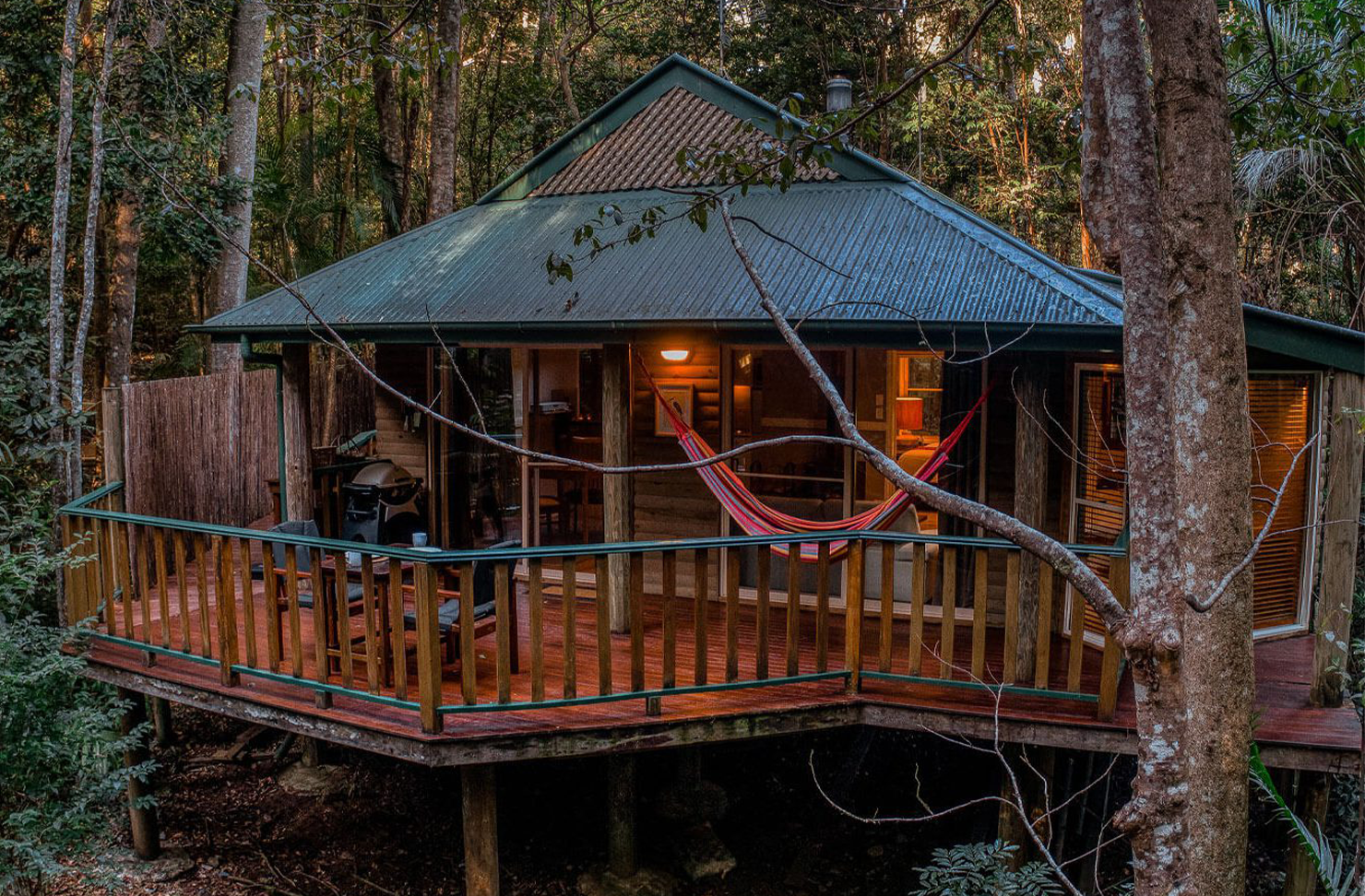 Sirocco Mantra
Mooloolaba
Mantra Sirocco Mooloolaba vomits all the goods and we are here for that. This hotel oozes coastal chic. With stunning beach views, open-plan bedrooms and spacious balconies, everything is designed to pay homage to the star of the show, the beach, of course. Choose from two-bedroom apartments, three-bedroom apartments and penthouse suites, all of which come with self-contained kitchens and private balconies.
House Bli Bli
Bli Bli
Blending old world elegance and modern comfort with a whimsical twist, when booking your next Sunshine Coast vacation, you can't pass up. Bli Bli House Riverside Retreat. The five-star boutique B&B was named Tripadvisor's most romantic hotel in Australia in 2020 and Australia's best small hotel in 2019, which is saying a lot. The six luxuriously furnished suites feature Victorian-style interiors suited to a modern contemporary aesthetic, and decadent touches are prevalent throughout the hotel. Bli Bli House is one of the best hotels on the Sunshine Coast, for that *extra* special occasion.
Don't feel like relaxing in luxury? Get back to nature at 17 of the Sunshine Coast's best campsites.
Image credit: Sofitel Noosa, Tingirana & Narrows Escape